Holiday Inn Express Hilton Head Island
Vacation Club Promotion
3 Nights / 4 Days of Great Accommodations
From
$199
Per family, during Value Season
for 2 adults and 2 children.
Vacation Club Preview Presentation Required
Retail Value $405 - You save $206

Hilton Head Island South Carolina Timeshare Promotions, Mini Vacation Packages, Discounted Family Vacations and Special Deals to preview the best Timeshare, Vacation Ownership, and Vacation Club properties in the Hilton Head Island Area.
Calculate the Price of Your Vacation
Please select your choice of room type and number of nights from the fields below, and then click the calendar on your desired arrival date.
Select Total Number Guests Including yourself
Your Discounted Price
For the whole family - for your entire stay!
$
---
---
Price does not include 11 % Taxes and $18 Daily Resort Fee.
Qualifications
Vacation Club Promotion Terms and Conditions:
To be a Qualified Participant for this special promotion, you must meet the following requirements:
Attendance at a 90-minute sales presentation at a Vacation Club sales center is required.
A valid, active MAJOR CREDIT CARD will be required to check-in at this resort.
THESE PACKAGES ARE PREPAID, AND YOUR CREDIT CARD WILL BE CHARGED IN FULL WITHIN 24 HOURS OF MAKING THE RESERVATION REQUEST.
Both husband and wife must be between 27 and 75 years of age.
Married or cohabiting couples must have a combined Gross Annual Income of at least $50,000. I cannot be on furlough. Combined Annual Gross Income is defined as the combined annual earned income on W-2 forms. Income does not include Child Support or Alimony or Social Security, Commissions, or Investments.
Single women must have a major credit card and be a homeowner.
If married, engaged, or co-habiting, both persons must attend the sales presentation together.
I have not participated in a sales presentation within the past 6 months. Must not have toured or been scheduled to tour at another sales office location within 90 days of your scheduled presentation (before or after this promotional presentation).
Bring, as proof of ID, one picture ID verifying residence at the same address, and one major credit card (American Express/MasterCard/Visa/Discover).
If debit card, the cardholder must be a homeowner.
Both parties attending the sales presentation must understand, read and speak fluent English without the benefit of an interpreter.
If you and your spouse or cohabiting partner (if applicable) are eligible for the promotional rates, then both of you must attend and complete the entire presentation on vacation ownership.
Our presentation is designed to last for approximately 90 to 120 minutes; however, it could last longer under certain circumstances.
This vacation package is non-refundable.
Failure to meet these requirements or complete our presentation will result in your credit card being charged $350.00 and the retail amount of any other incentive(s) you may have received.
Can not be in the process of purchasing or refinancing a home.
It cannot be in open bankruptcy or debt consolidation.
No groups and no more than one family. Two or more families or friends traveling together with the same promotion each are not eligible.
Terms & Conditions
Attendance to a 90 to 120-minute sales presentation at a Vacation Club sales center is required. All reservations are subject to availability and based on a first-come, first-served basis. Failure to attend the sales presentation or failure to qualify for this promotion will result in a charge to your credit or check card of $350.00 penalty fee. This vacation package is non-refundable; however, it can be rescheduled one time upon 72-hour advance notice. If you cannot travel on your scheduled dates, you must give at least 72 hours advance notice of cancellation to avoid "no show" charges. Failure to give 72-hour notice will result in forfeiture of your vacation package. Should you desire to re-schedule your arrival date, let us know 72 hours before this confirmed arrival date. Based upon availability, we will help you select other travel dates within the next six-month period—no refunds for early departures. Offer subject to change without notice. This offer is not transferable and is not valid in conjunction with any other offer.
OUR SERVICES ARE LIMITED TO MAKING THE RESERVATION ON THE HOTEL OR RESORT YOU SELECT, PAYING FOR SUCH ACCOMMODATIONS, AND (IF INCLUDED IN THE PACKAGE) PAYING FOR THE ATTRACTION TICKETS SELECTED IN THE RESERVATION. ALL INCIDENTALS AND HOTEL/RESORT FEES ARE THE GUEST'S RESPONSIBILITY. TAXES ARE THE GUEST'S RESPONSIBILITY UNLESS INDICATED IN THE PRICE DISCLOSURE. WE ARE NOT RESPONSIBLE FOR THE ACTUAL FULFILLMENT OF THE SERVICES FROM NEITHER THE HOTEL NOR THE RESORT SELECTED, AND YOU SHOULD ADDRESS ANY COMPLAINTS DIRECTLY WITH THE SERVICE PROVIDER (HOTEL OR RESORT'S FRONT DESK).
By making a reservation in response to this promotion, you agree to this policy.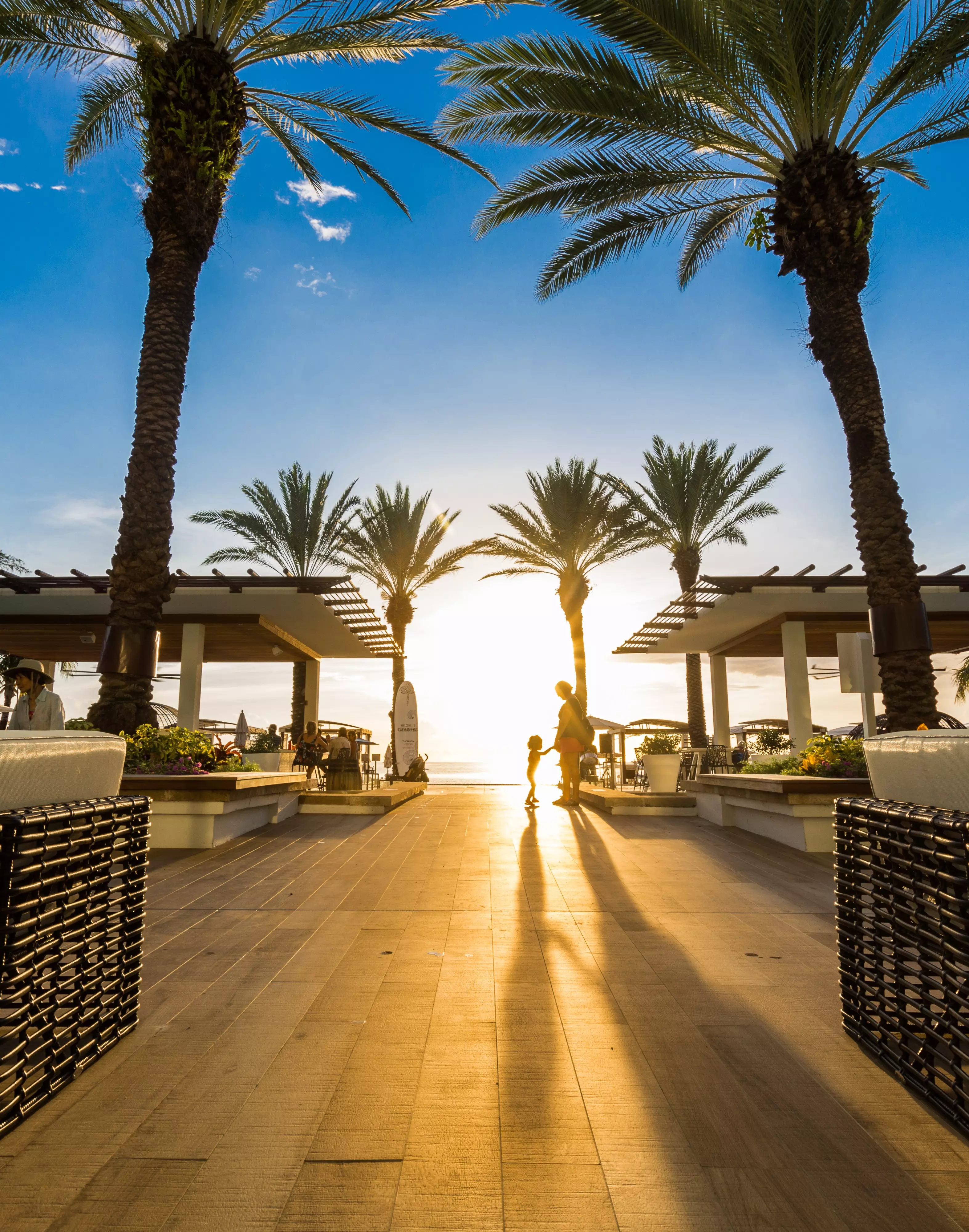 Holiday Inn Express Hilton Head Island
Enjoy these great accommodations at the lowest rates online guaranteed by attending a 2-hour informative sales presentation in this special Timeshare / Vacation Club promotion.
Our Hotel is located on the south end of the island, which is known for its oceanside small town appeal, world famous golf courses, outdoor attractions, and family recreation. The scenic drive to the hotel takes you from Pope Avenue to prestigious South Forest Beach Drive to the Reception Building at 2 Tanglewoood Drive. A quick walk west you will find the 153 rom, open-air corridor 5-story hotel building at 10 Tanglewood Drive with plenty of parking.
Holiday Inn Express Hilton Head Island invites you to escape beneath a lush canopy of live oaks and Spanish moss at their six-acre resort-style hotel at Coligny Beach & Plaza. Just steps away from Lowcountry Celebration Park. Enjoy complimentary breakfast and parking, Wi-Fi and 24-hour fitness center access. Here you can have your toes in the sand or feet on bike pedals with minutes of arriving.
You're invited to stay assured, play outdoors and relax with peace of mind at Coligny Beach & Plaza. Walk or take a shuttle to the beach, shopping, dining, and entertainment. Our Hilton Head hotel is centrally located off of South Forest Beach Drive, next to Lowcountry Celebration Park and minutes from Harbour Town Lighthouse.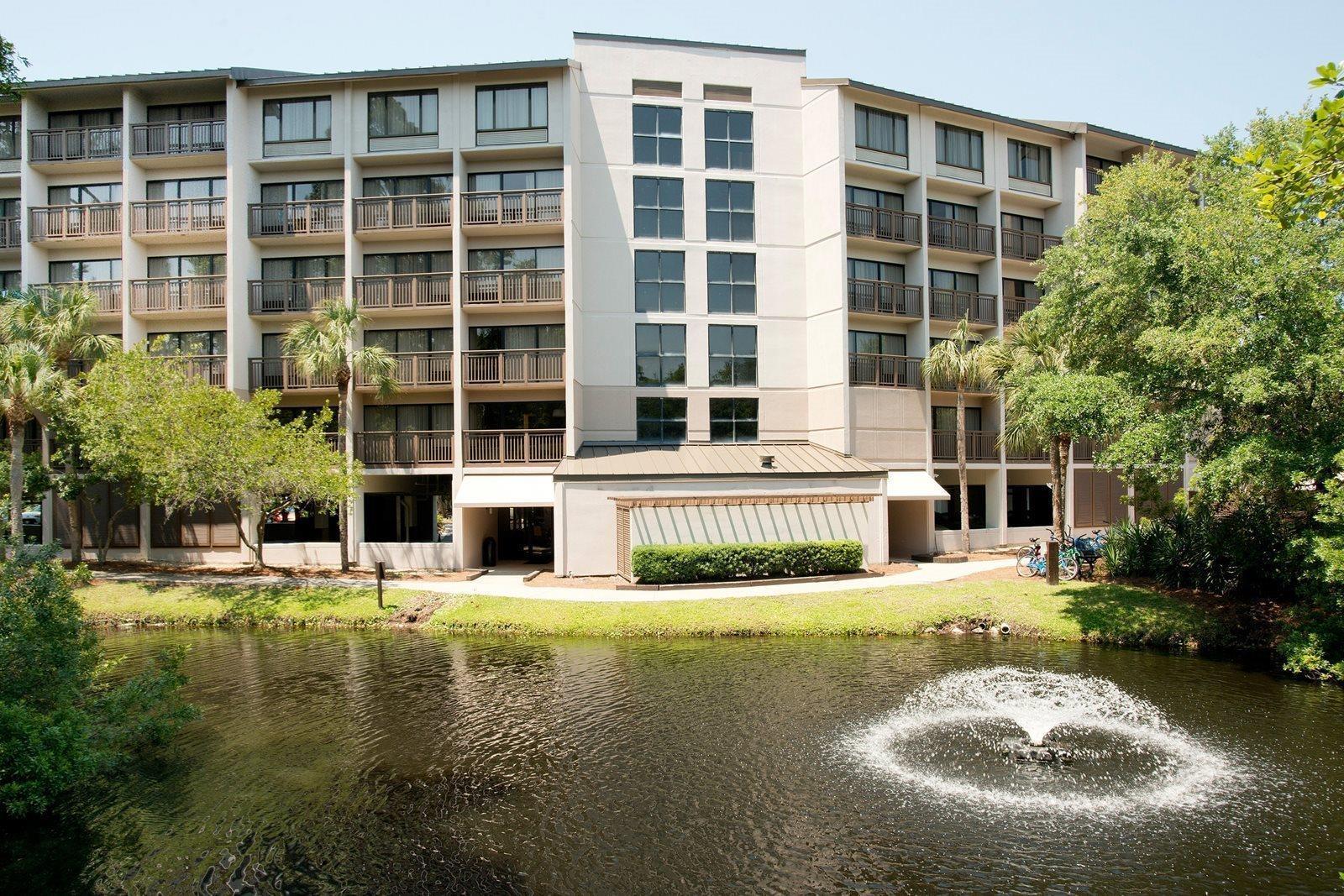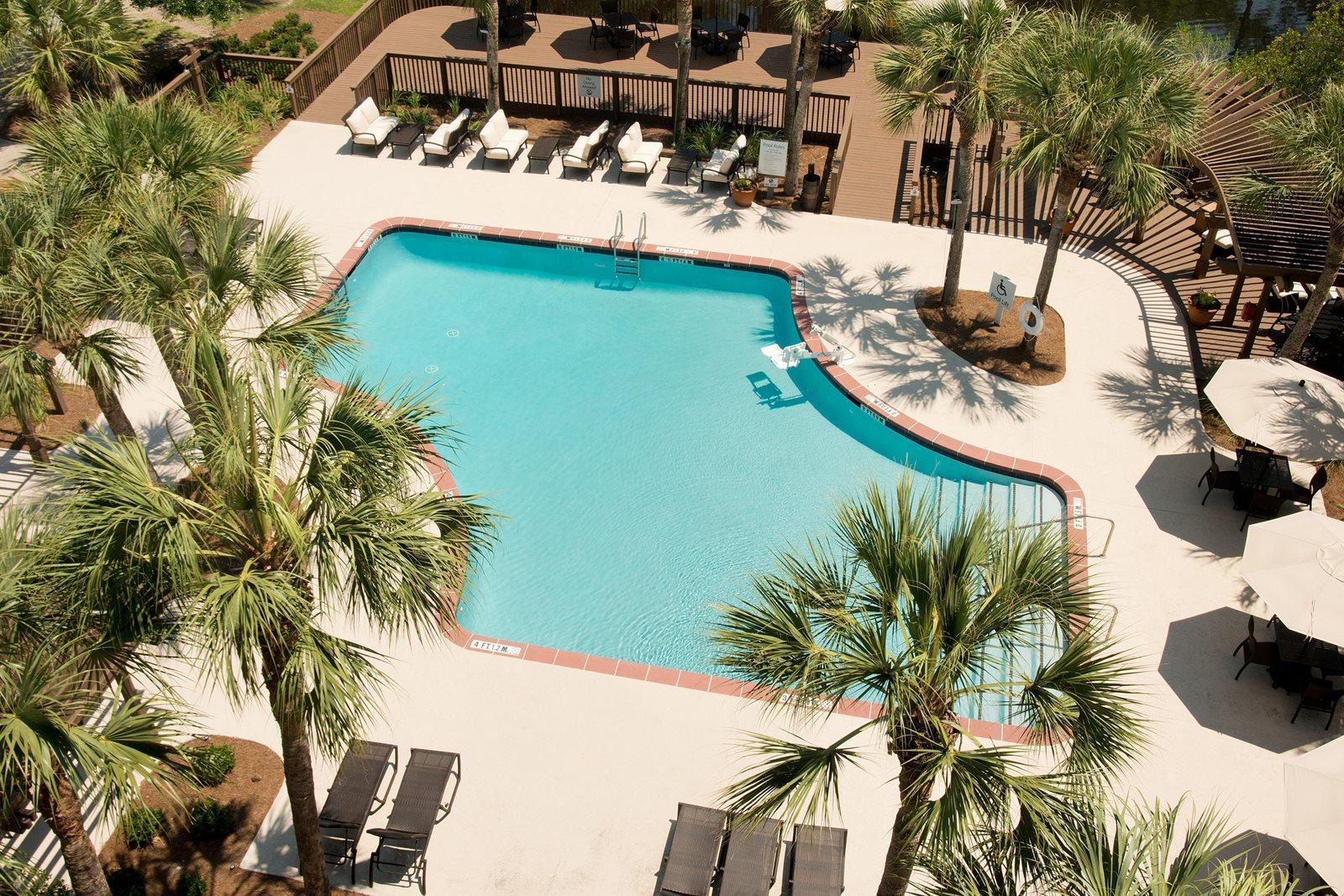 KING BED GUESTROOM
Look outside your wide-paneled window for views of our oversized pool. Come back to this spacious room after a day of soaking up the South Carolina sun and relax in our luxuriously appointed king bed.
Keurig coffee & tea service

Comfy bed with plush duvet

Choice of soft or firm pillows

JR Watkins hair and body care

Workspace with digital ports and plug-ins

ADA accessibility available

Sleeper sofa (select rooms)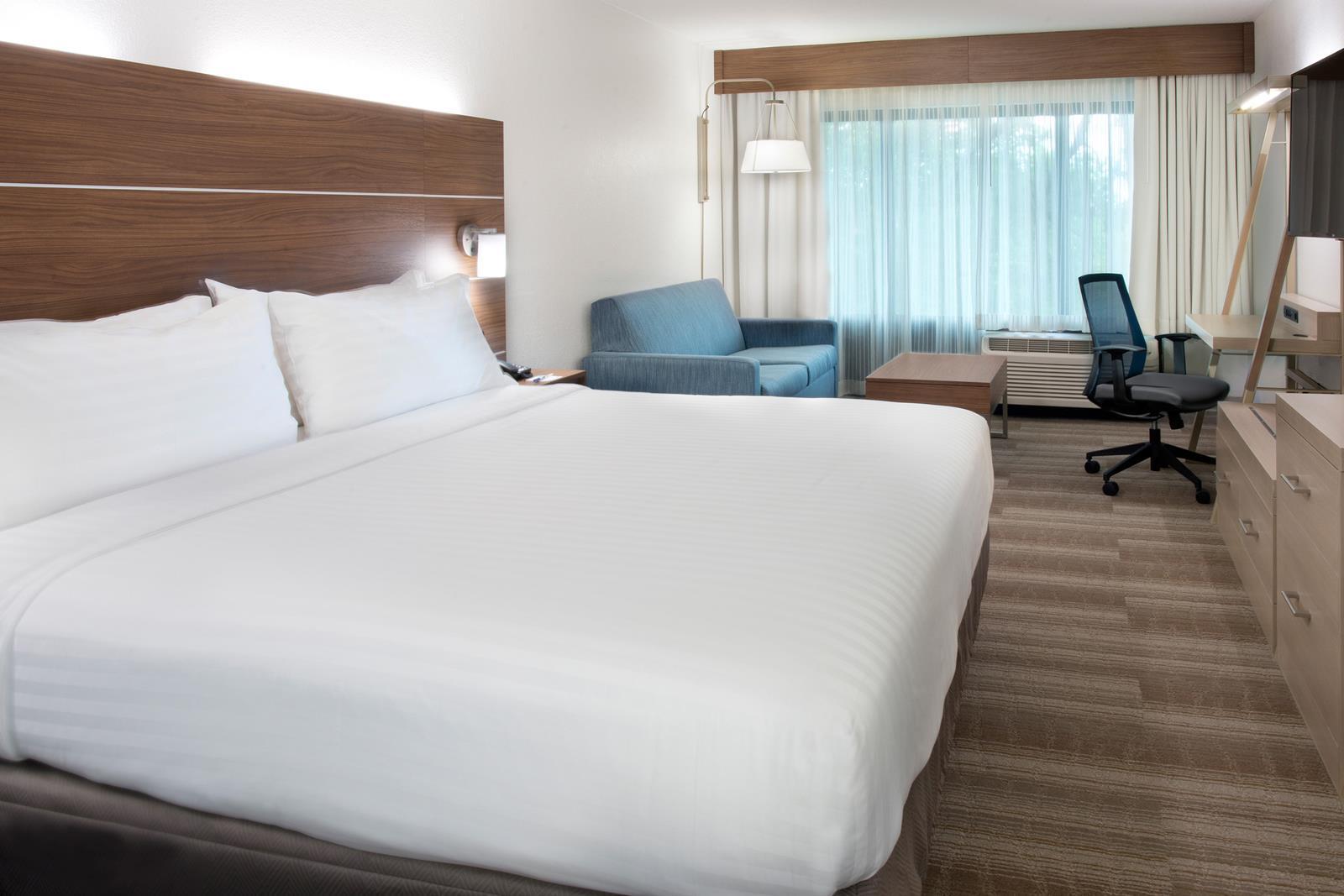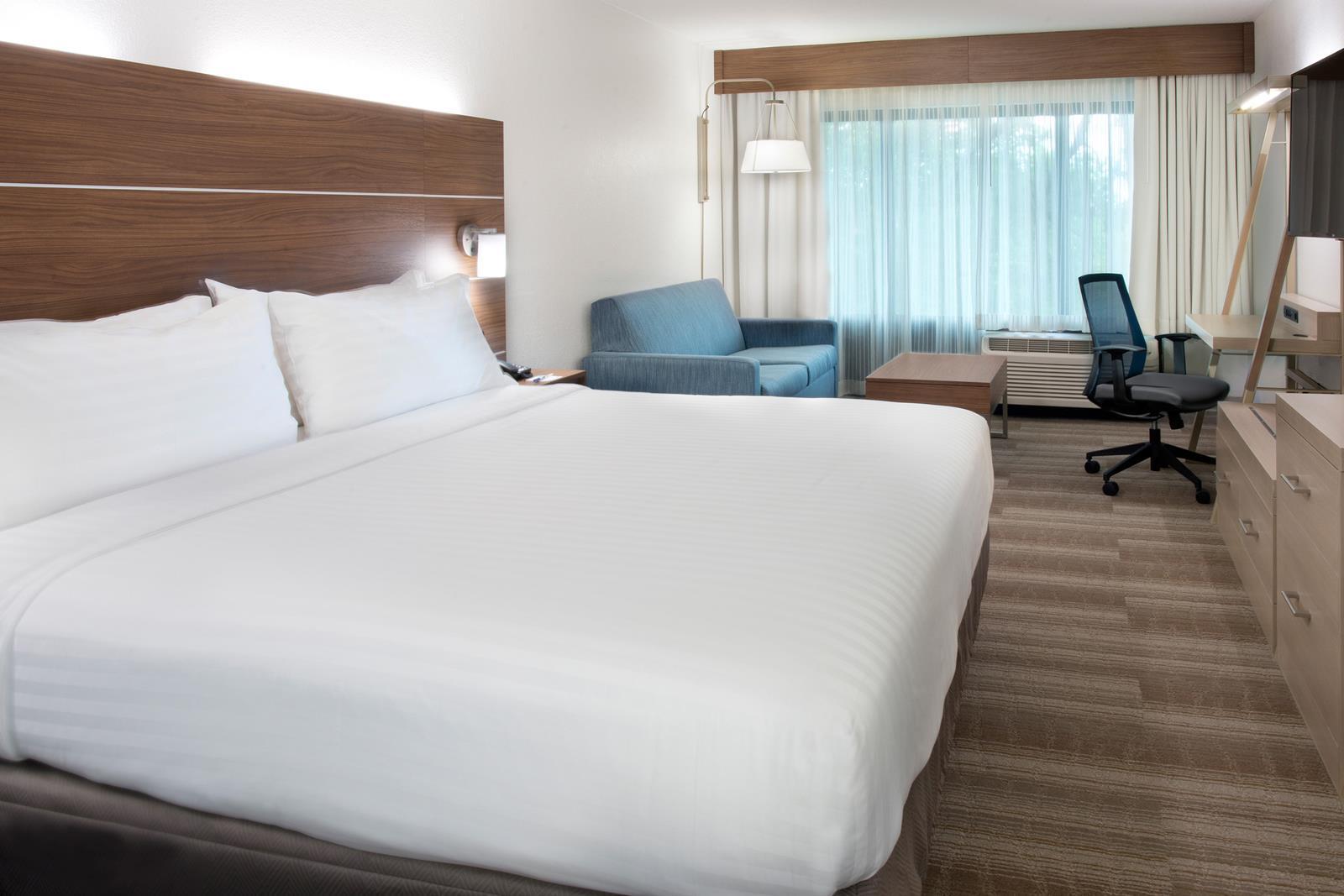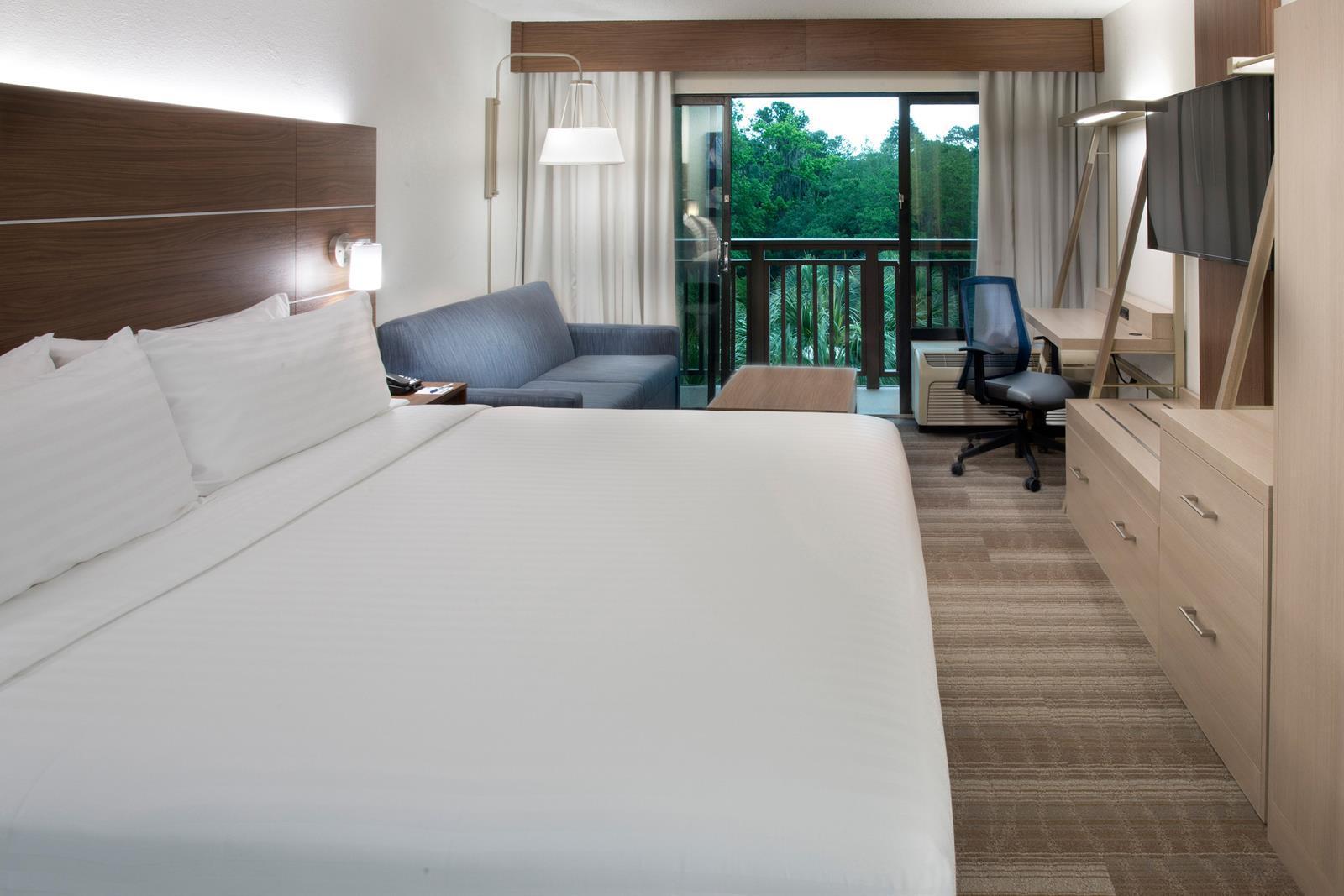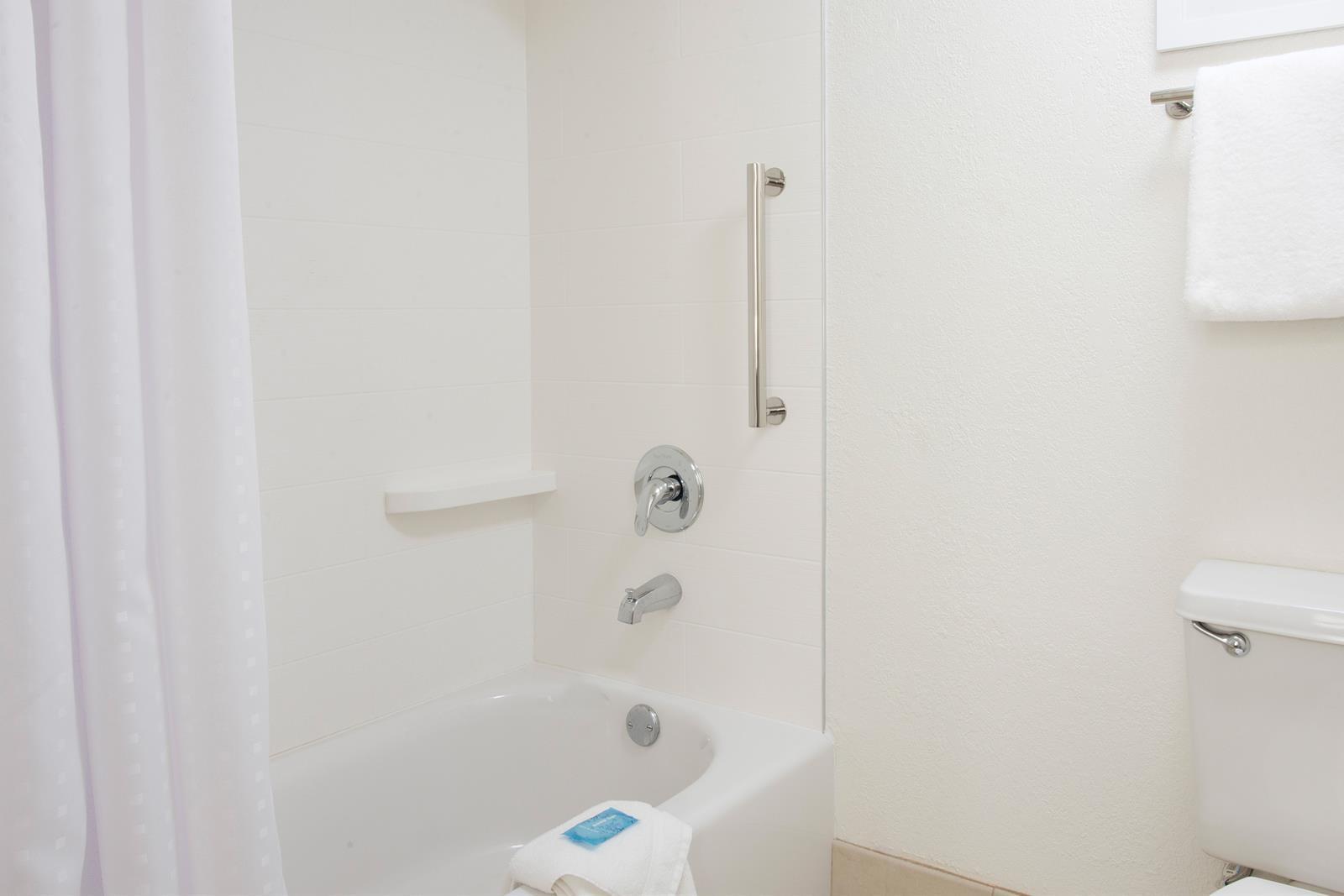 Activities
Our southern hospitality awaits! Unwind at the expansive Outdoor Pool, Sundeck & Grill Area - open from 10:00 AM to Sunset. Get your workout in at the well-equipped Fitness Center. Guests can stay in touch using the Business Center with convenient computer access. The Lowcountry Pantry, is open 24-hours a day for all the sundry essentials and happy hour beverages. Call Guest Services for deliver! Breakfast is filled with memory making opportunities with our very own Sammy the Sea Turtle mascot and the Island Time Selfie Hut. Be sure to meet Sedgewick at his fresh local Produce Stand on the Front Lawn next to the Bike, Surf, and Paddle Board Rentals.
Nothing says "welcome" like the wide array of activities to enjoy as a guest at our hotel. We've curated a full list of amenities and extra benefits, so you can begin planning how to fill your days at the #1 value-added hotel in Hilton Head Island.
Discounted Bike, Surf, and Paddle Board Rentals – Front Lawn

Local Produce Stand – Front Lawn

Gourmet Popscicles of Hilton Head – Pool Pavilion

Sammy Bucks – Lowcountry Pantry

Outdoor Games and Guest Grill – Pool Pavilion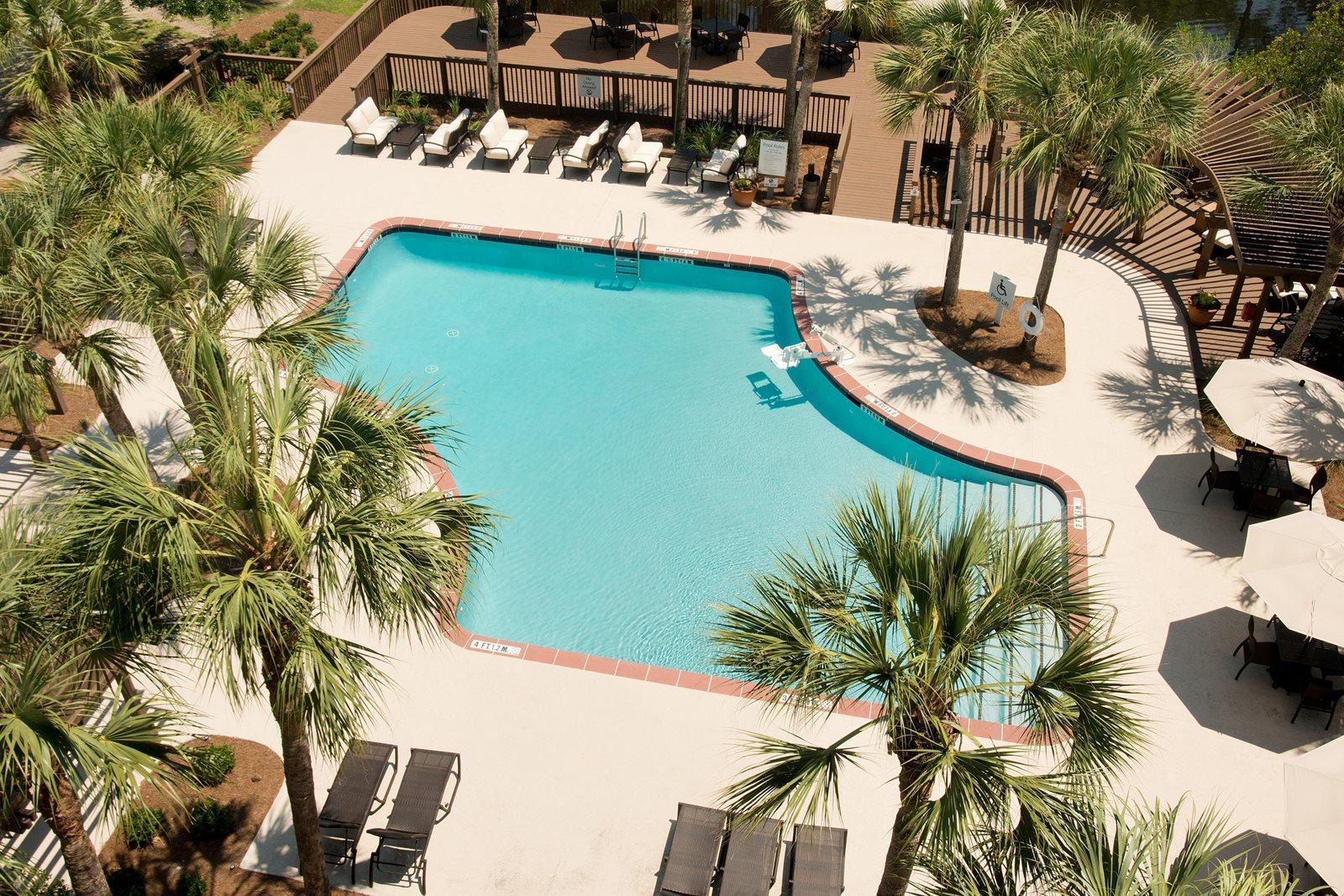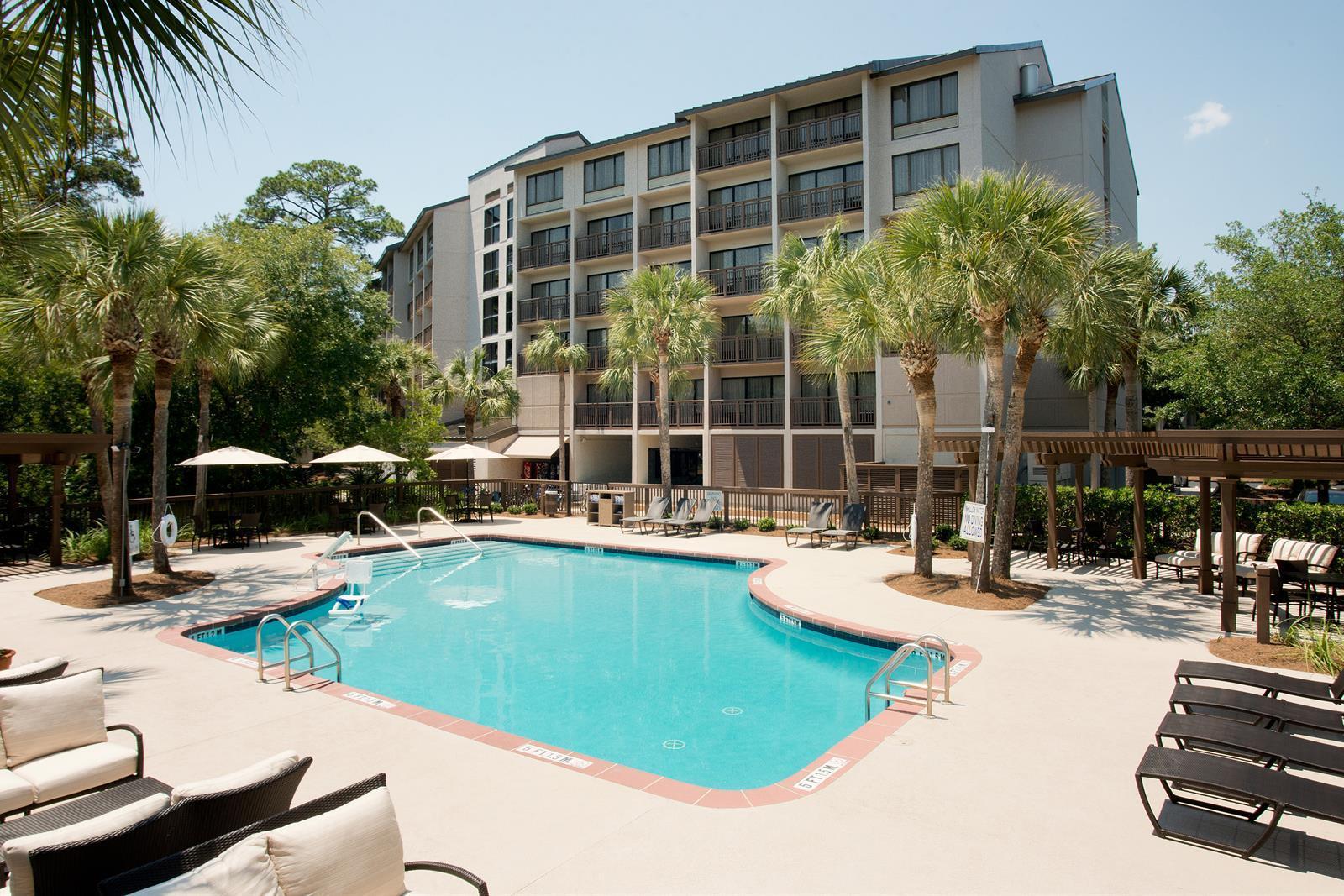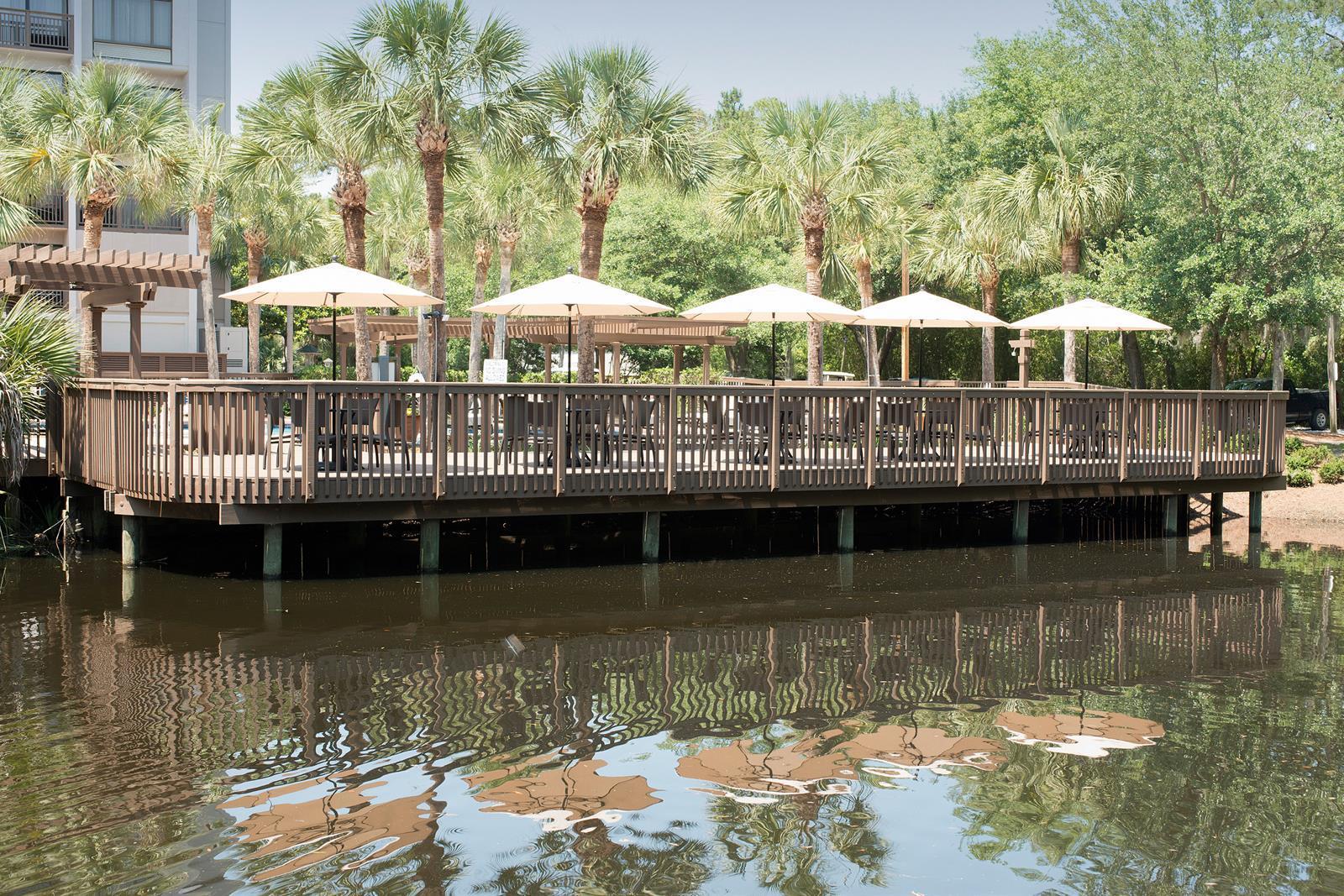 DOUBLE QUEEN GUESTROOM
Made for vacationing, this room features two queen beds overlooking the pool. Start your day by diving into our refreshing outdoor pool, then make your way back to this spacious room to dry off.
Keurig coffee & tea service

Comfy bed with plush duvet

Choice of soft or firm pillows

JR Watkins hair and body care

Workspace with digital ports and plug-ins

ADA accessibility available

Sleeper sofa (select rooms)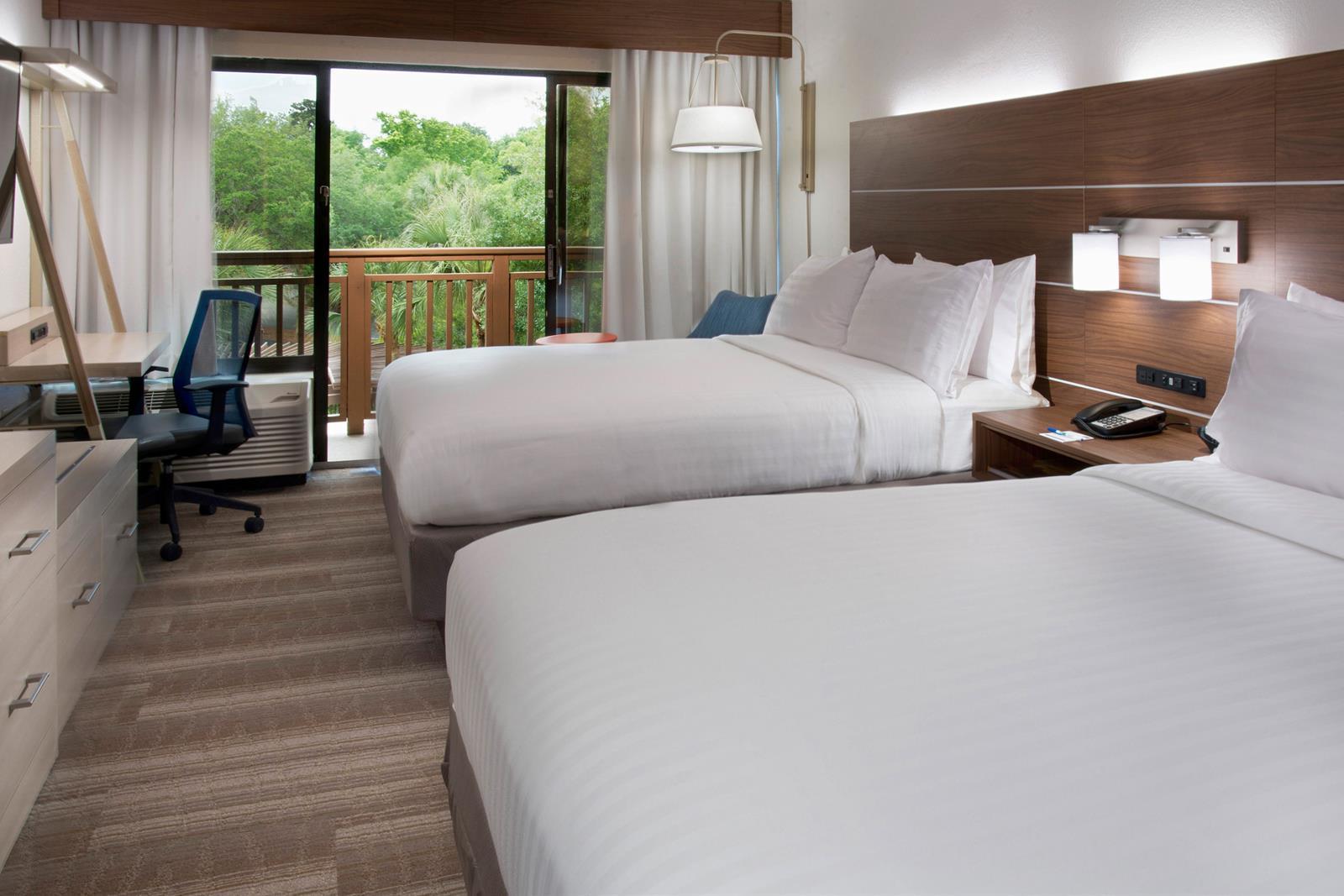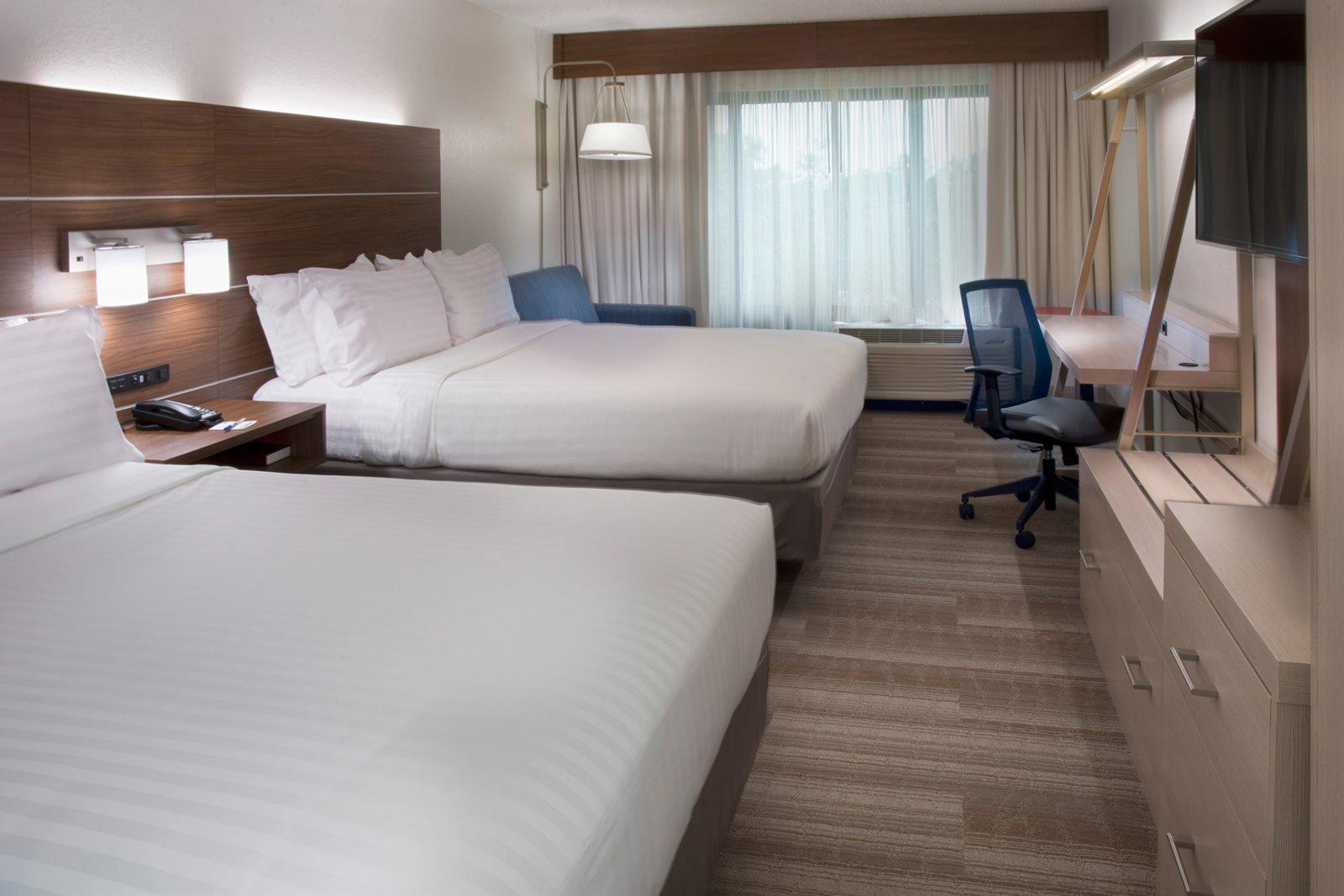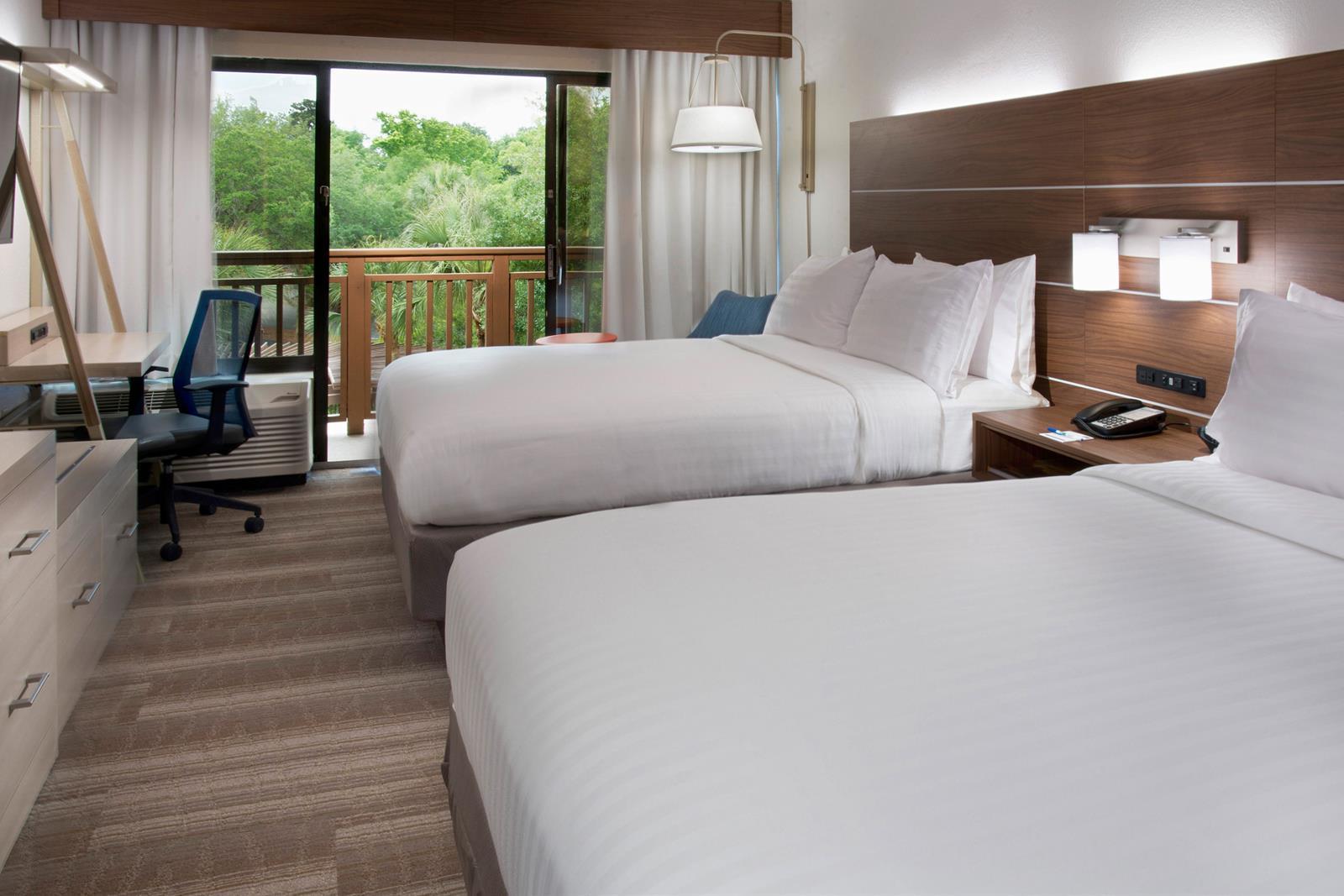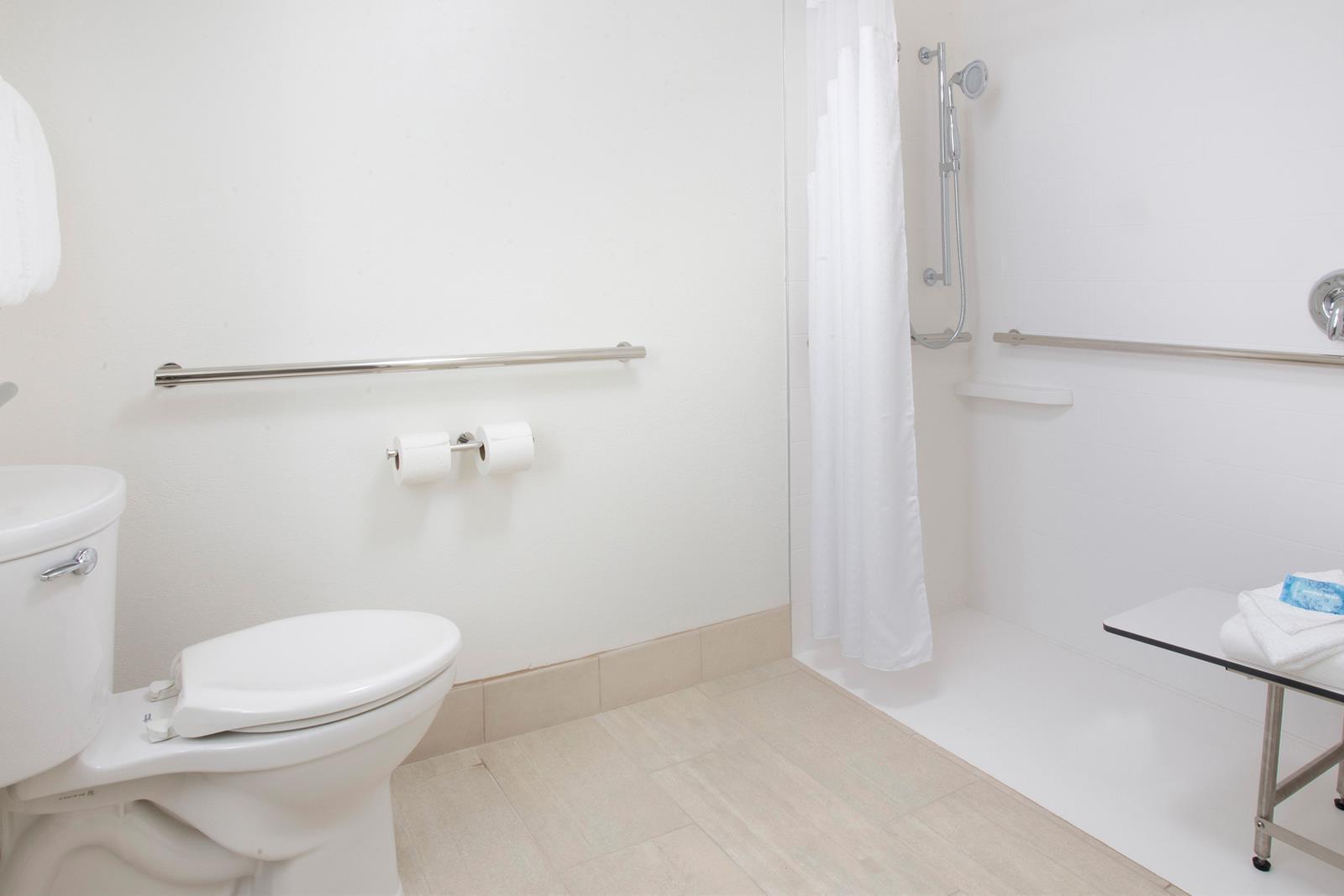 Holiday Inn Express Hilton Head Island Vacation Club Promotion
Book Your Stay
Take advantage of these great promotional rates by attending an informative 120-minutes sales presentation of the sponsoring Vacation Club.